When facing a difficult situation, I will think way too much if I allow myself. Like many, I overthink, analyzing a problem from 70 different angles, determined to anticipate, and prepare for, any outcome.
I have learned through the years that this is an impossible endeavor.
Despite all my examining and planning, I can never adequately prepare for the unknown.
Try as I might, I am not omniscient.
I am not God.
In my flesh, I find this reality frightening. Like Eve, I desire the ability to know and understand as He does. Many judge Eve, but many of us are like her, longing to be 'like God,' knowing good and evil, competent to lead and direct our life because we have all the facts.
But, this desire, fueled by pride and self-reliance, is utterly futile.
Facing the stark reality that I am too foolish, weak, or ignorant to lead my life used to leave me feeling desperately inadequate.
The truth is, sometimes, it still does.
In the darkness of my situation, I anxiously grope for something familiar and strong to alleviate my fear and guide me along my path and into the light.
If I allow myself to give in to my flesh, I will begin to worry that I will never escape the blackness that threatens to engulf me.
But thankfully,
We serve a gracious God who has promised never to leave or abandon us.
Click To Tweet
And just as His grace is sure and certain,
We can be confident that God's faithfulness is eternal.
Even in our moments, or seasons, of darkness, Christ relentlessly pursues us in love. He stands beside us, holding out his hand to steady us and lead us back to Himself. He is the truth and the light, and all who follow Him have the light of life.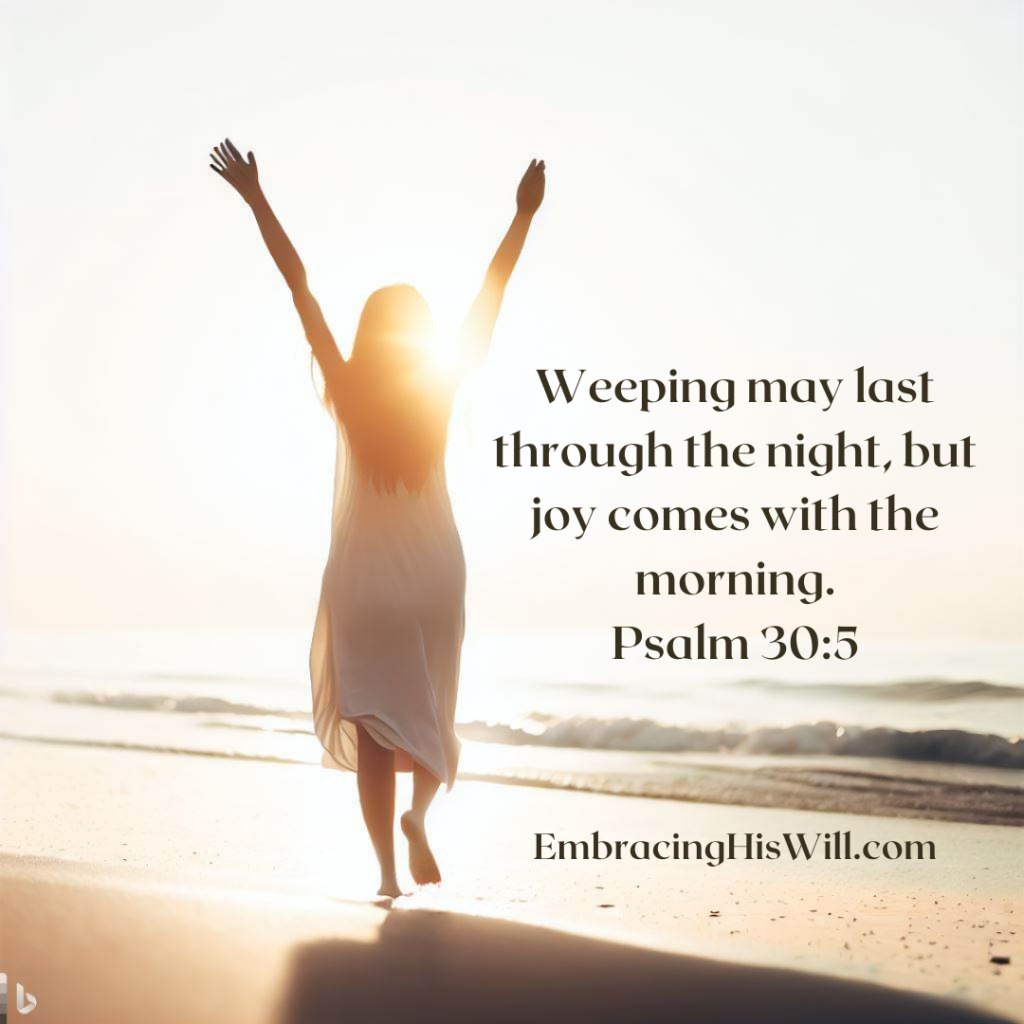 The light of Christ breaks through the coldest, darkest situations, freeing us from the captivity of fear and doubt. It not only allows us to see where we are but enables us to catch a glimpse of where we are going. Like the distant outline of a great and beautiful city, we can barely make out the wonder ahead. His light also allows us to see how far we have come, where we have come from, and all we have made it through. With our path now more clearly illuminated, we find new courage and are empowered to stand on new and renewed faith.
Yes, in this world, we will face trouble. And in the tentative uncertainty of our situation, we will struggle against worry, dread, and perhaps even heartbreak.
But only until the morning.
Be encouraged, dear sister,
the morning always comes.
Click To Tweet
And with it, the blessed light of the Son.
"Weeping may last for the night, but joy comes with the morning" – Psalms 30:5
For further study- Hebrews 10
For prayer on today's topic, please stop by Daily Hope & Prayer.