My marriage story is one of grandiose heights and heart-wrenching lows. Our marriage has survived infidelity, infertility, separation, joblessness, and addiction, but those are many stories for other days.
Nineteen years and six beautiful kids later, I can say this with certainty: marriage is hard work.
It is beautiful and gratifying, and I grow madly in love with my husband daily. But let's be honest. Any healthy relationship requires intentional effort.
The relationships that challenge us the most have the potential to produce significant fruit in our lives. This is especially true of marriage.
This is a deliberate part of God's design.
The Lord continually uses my marriage to mold, grow, stretch, and humble me. This is true of most relationships in my life, especially those closest to me. Yet,
Marriage has proven to be one of God's most effective tools for producing spiritual and personal growth in my life.
Click To Tweet
When counseling other couples, my husband and I call this process grinding. Grinding is when God uses us to smooth and polish the rough (uncomfortable) and unsightly (ungodly) edges of the other.
In my marriage, the magnitude of brokenness that each of us brought to the table led to a lot of grinding.
In many ways, marriage reflects the relationship between Christ and His Body, the Church. At its best, marriage is a living example of self-sacrifice and selfless love mutually exchanged for the benefit of the whole, to the glory of God. At its worse, it is a picture of irate, misguided, and self-motivated people berating, beating, and crucifying the one who loves them most. Most marriages are somewhere in the middle, continually on the journey from one end of the spectrum to the other. Many married couples move back and forth between opposite ends more times than they would like to admit.
Marriage was designed to be a beautiful reflection of God's love.
Click To Tweet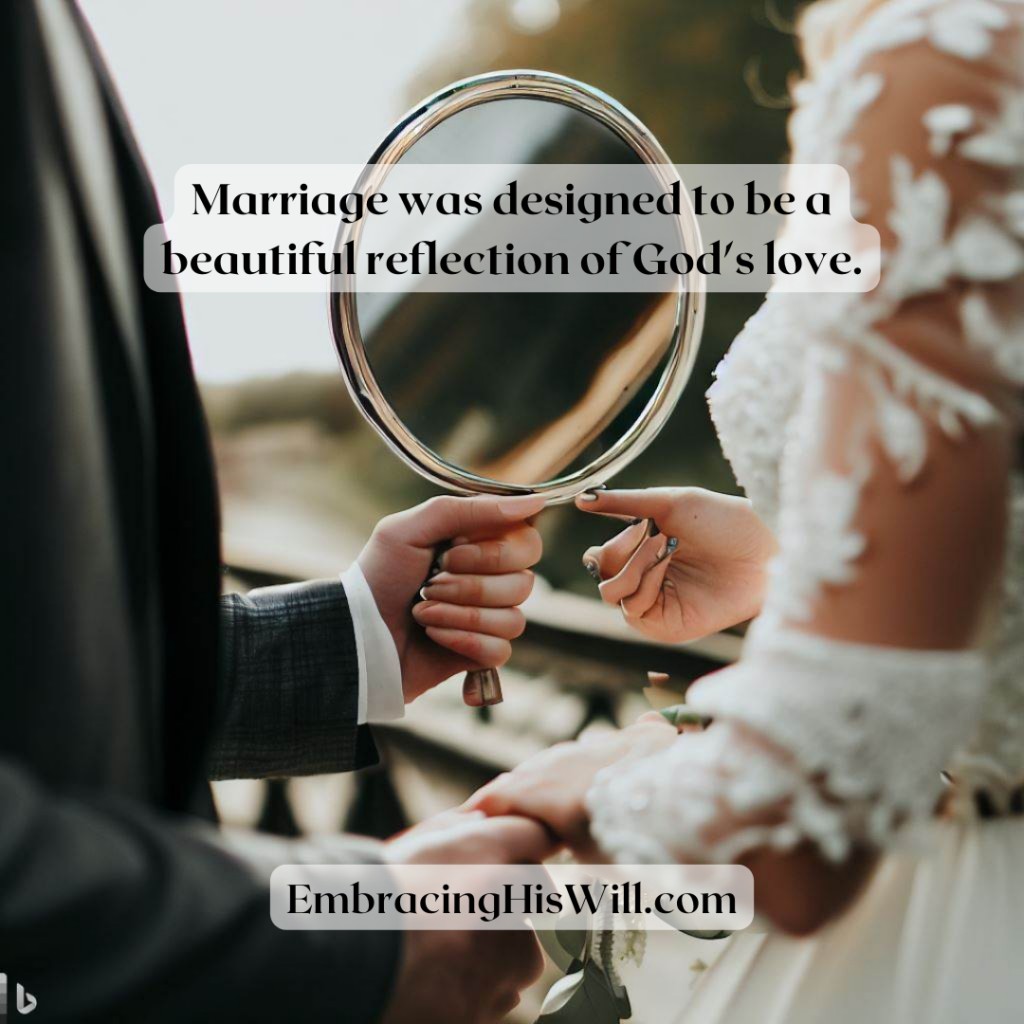 As humans, we are born with an innate inclination for survival. Yet the human experience is regularly, directly and indirectly, influenced by triumphs and marring hurts. And if we have been hurt, our minds and hearts compel us toward self-protective stances.
We long to be whole, healed, and restored. But, since the fall of man, we've been born with God-sized holes, which we desperately long to fill. The emptiness inside us was designed to be filled with Christ, but many of us foolishly forgo choosing Him and instead endeavor to fit a person in His place.
In our search to feel complete, we often partner with people with specific similarities to those we have been most influenced by. We were encouraged and inspired to seek healthy relationships if these individuals were healthy. If our relationships were unhealthy, devoid of necessary love and acceptance, we can find ourselves in particularly troublesome partnerships. Subconsciously, we seek to overcome these original hurts by finding long-sought-after love and acceptance through new relationships.
Inevitably we bring our past triumphs, hurts, lessons, and scars to these new relationships.
If, during the course of this journey, married individuals have surrendered their hearts and lives to Christ and are committed to walking in a healthy marriage, God can use them to traverse new heights of healing and restoration. Not only will the couple be used by God in each other's lives, but they will also be used to point the other to Christ, the only One big enough to fill the God-sized hole in their spouse.
However, suppose the married individuals have not surrendered to Christ. In that case, they will unwittingly endeavor to mend their brokenness at their marriage and spouse's expense. There is truth to the saying, "Hurt people hurt people."
However, we who are adopted into the family of God, as sons and daughters, have the power of Christ dwelling within us! The Holy Spirit walks with us to encourage, empower, correct, teach and rebuke, and He will guide us into all truth if the truth is what we seek.
As children of God, we must love, forgive and offer mercy to others.
Click To Tweet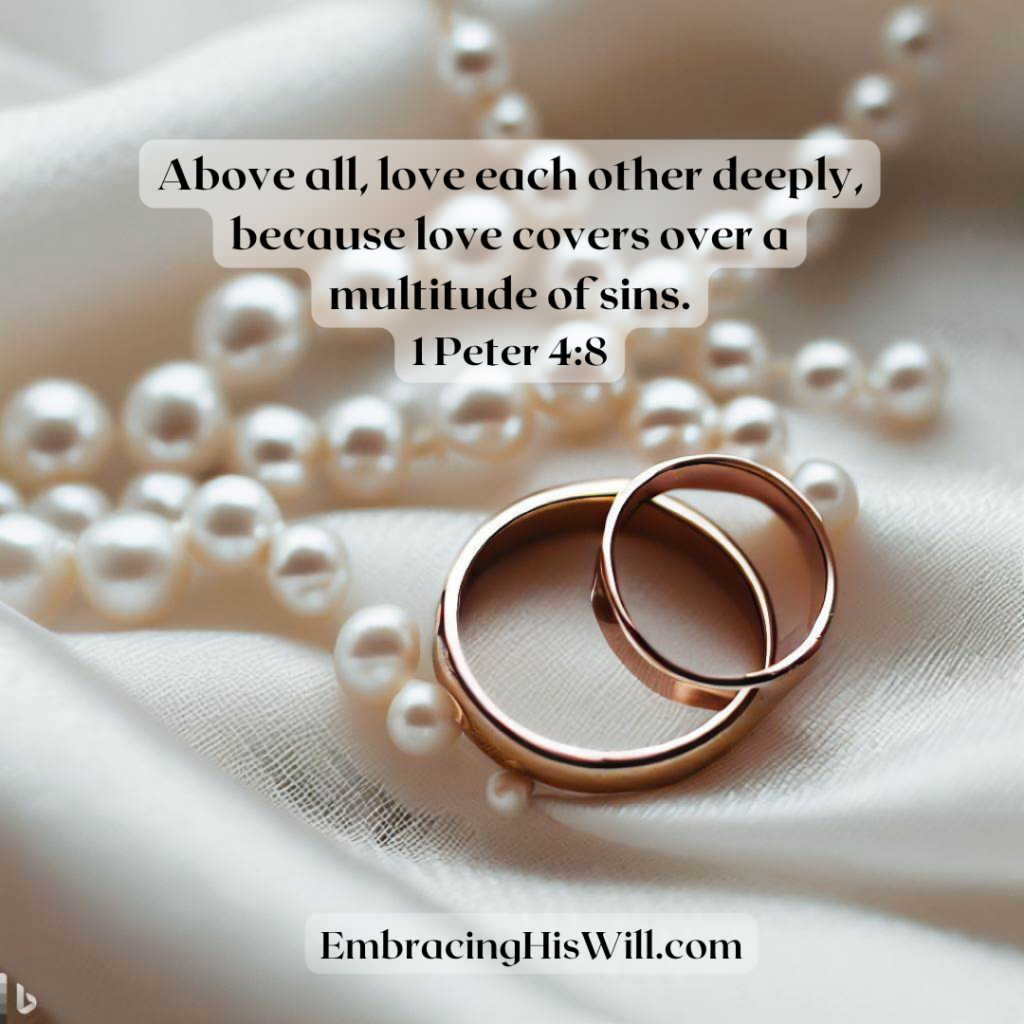 These commands are essential in the context of marriage. When faced with devastating hurts, the mandate to love, forgive and show mercy takes on new importance. The valley that seems impossible to cross through human effort may very well be the vehicle God will use to bring personal and marital breakthroughs to our homes. The marriage union offers us an opportunity to experience love at new heights.
During difficult seasons, we may struggle with the natural human response to fight or flee, quietly weighing our desire or ability to deal with the pain of our circumstances. As these most personal storms confront us, if we are willing to humbly examine ourselves instead of pointing the finger of blame elsewhere, we may find that we have arrived at a divinely appointed season of supernatural healing and restoration.
When we address our sin, instead of criticizing and judging our spouse's sin, we allow the Holy Spirit to work through us instead of hindering His purpose in and for our lives. If, instead of responding in anger, bitterness, and self-righteousness, we choose love, forgiveness, and mercy, we can become instruments of the power of God in our situation. These points of destiny interwoven into our lives are used by God to accomplish the impossible within and through our lives.
I call these God moments.
Choosing the path of humility for the sake of our marriage when our hurting hearts are screaming, "What about me?" can only be accomplished through the power of the Holy Spirit. Humility demonstrated through love despite perceived hurts is a powerful and life-changing choice. These choices break down barriers, bring life to dead feelings, and stir up dying situations. But, most importantly, these are the choices that unite us past our differences despite our divisiveness.
Humility demonstrated through love, forgiveness, and mercy is used by Christ to stitch together singularly focused individuals into a solidified unit dually focused on the will of God. This is the magnificent work of Christ: taking two me's and joining them together through the journey of marriage to create a Christ-like us.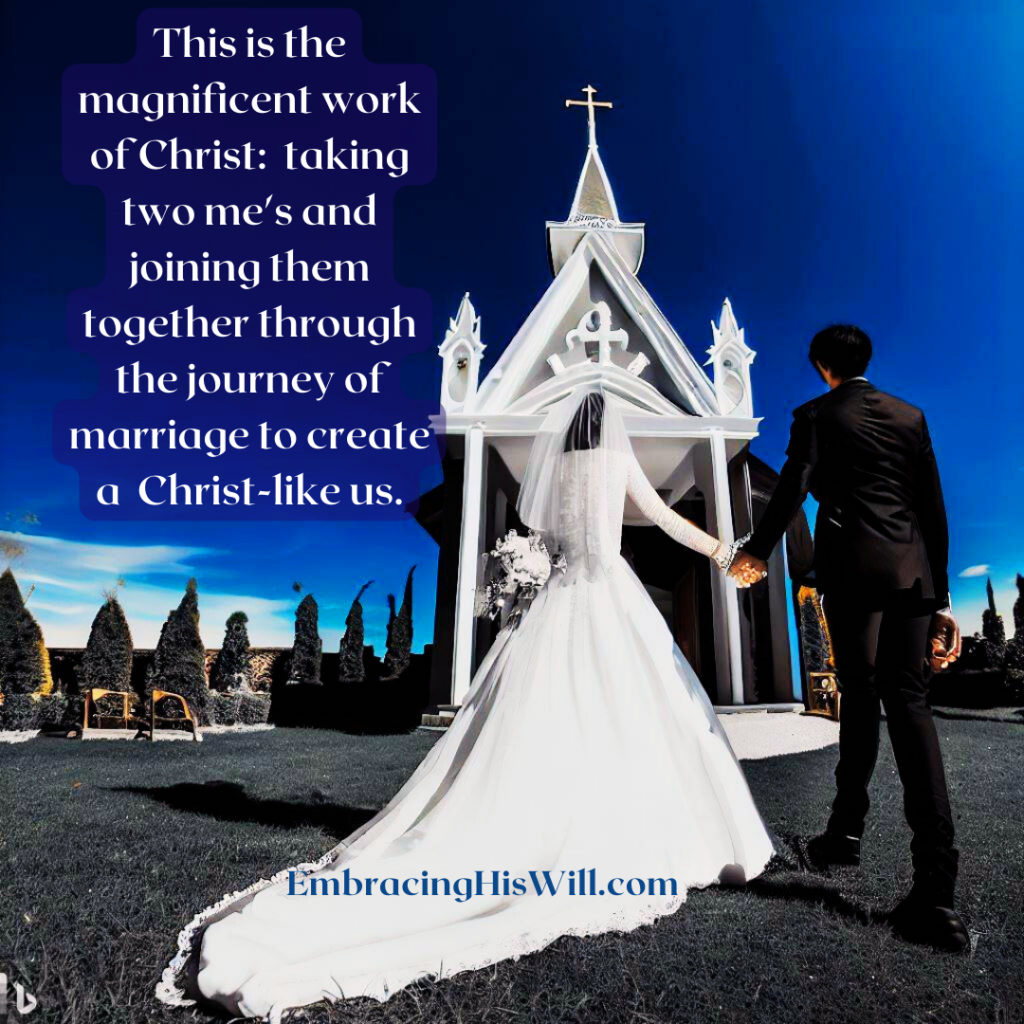 For prayer on this topic, visit today's Daily Hope & Prayer.
For further study: 1 Peter 4:8, Genesis 2:24, 1 Corinthians 13:4-7