When the Lord rescued me from the entanglement of sin, I was utterly broken. Still, today, it is hard for me to believe that I have been given the life that I live. Each day is a new opportunity to draw close to my Lord. Every moment I am given, I can learn to enjoy all He has blessed me with. But my life was not always like this.
Nor was my disposition.
Before God delivered me from the chains of insanity that were my life, most people considered me unredeemable. I was so heavily weighted down by guilt and shame that I was pretty sure "most people" were right. I had run so far, and for so long, from my Savior that I had given up on ever finding my way back. Even if I could find my way, I was more than confident He no longer wanted me. So I stayed far away from God. I stayed far away from anyone who seemed to know or look like Him.
Like the lepers of the ancient near east, I imagined myself an outcast. The woman I saw in the mirror repulsed me, so I assumed that what others saw of me also repulsed them. I felt rejected by society, and so, in turn, I rejected culture and societal norms. Standing on the outskirts of civilization, my actions, words, and appearance intentionally cried out, "Unclean! Unclean!".
And no one knew better than I how my words rang true.
For years, I wore so many masks that I eventually lost track of who I was. I was the fun party girl that everyone loved, yet inside, I was the tortured introvert that no one truly knew. I detested what was inside me, so I never allowed anyone the chance to get to know me.
Friends surrounded me, and yet I was desperate for love and acceptance.
Sometimes, I still struggle with feeling accepted.
I continue to be a work in progress.
My sin shattered relationships and hurt others, but I destroyed myself. Yet the circular nature of the devastating effect of sin only led to further sin to avoid the shame of the previous sin, and on and on, until destructive and selfish choices buried me.
I felt lost in darkness so thick that I believed I could never be free.
My mother prayed for me. My grandmother prayed for me. Everyone prayed for me. I was in my late 20s when I finally stopped running from God.
I was a mess when God found me.
And then, in the wholly magnificent way that God does, He saved, delivered, cleansed, and took my hand.
It has been two decades since the Lord changed my life, and the process has not always been easy. Not long after I gave my life to Christ, one task that proved most challenging was learning to see me as God sees me: loved, precious, and accepted. Yet, because I did not understand how God saw me, I sought that love and acceptance from the next closet thing – His church.
Unfortunately, we, as the Body of Christ, can be hard on believers such as myself, who were once sinners of the Mary Magdalene variety. Often, we would like them to be assimilated into a uniform example of godliness without the history of having been delivered from seven demons.
However, the problem with this plan is that hurting people need to know that God can heal the hurting.
Broken people need to hear that God mends the broken.
Damaged people need to believe that healed people have scars.
Therefore, hiding our scars due to prideful, fearful, or self-centered reasons not only shadows the glory of God manifested in our lives but can also hinder the work of God through our lives.
Dear friend, if you are reading this today, please allow me to share this with you today:
My scars have scars.
And my scars are massive. Many of them run deep. Some of them are downright grotesque, and a few are still healing.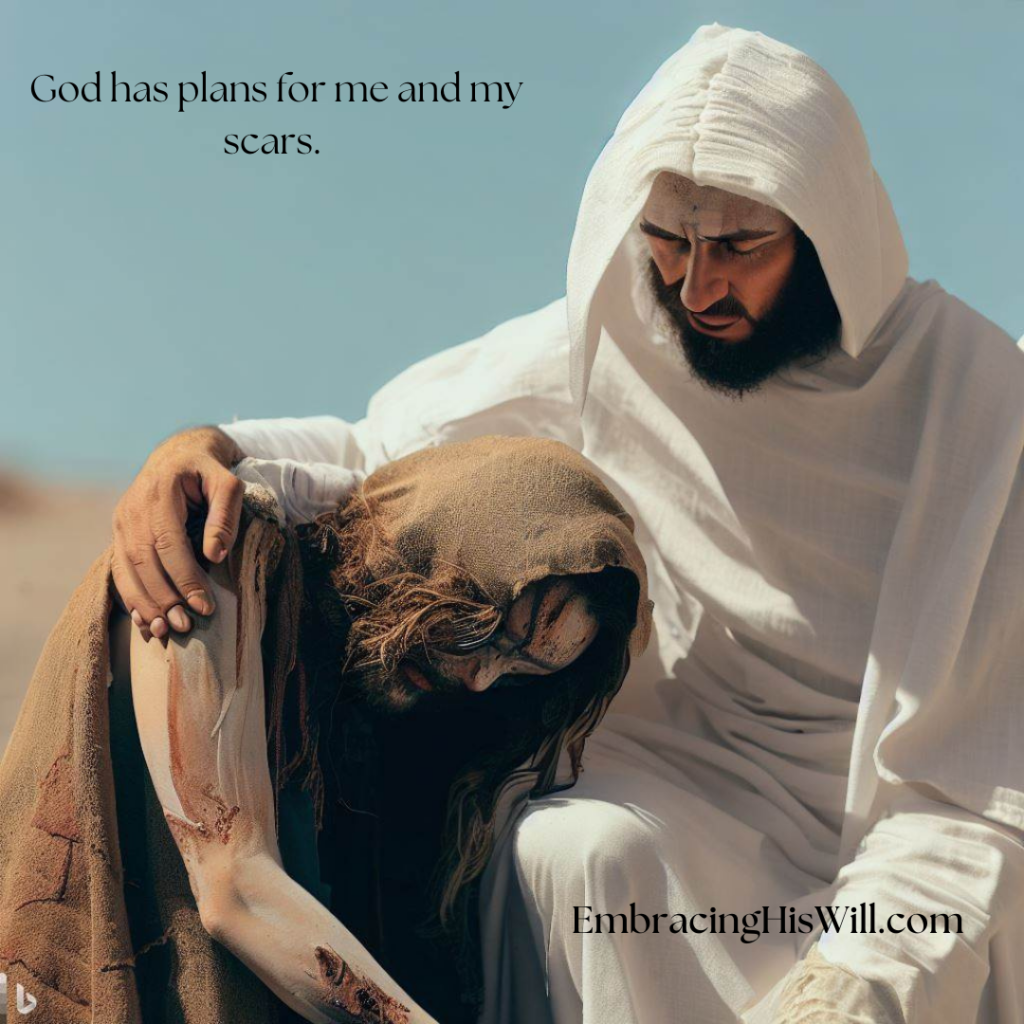 And though I was once revolting in my own eyes, I am now marvelous in God's eyes. Not because I am good or righteous. I am far from it.
But, I am a magnificent work of art, masterfully crafted to reflect His love, mercy, and power to a world full of hurting and lonely people.
There have been times that I felt life would be easier if I fit the mold that appears to be the Christian norm. But that mold would not fulfill God's purpose for me.
God has plans for me and my scars.
Click To Tweet
I want my life to be a living sacrifice, and He desires to use it as a living testimony. And while my pre-Christ story resembles that of Mary Magdalene, my post-Christ praise aligns with the accounts of Mary of Bethany. Because He has loved me fully, I desire to sit at His feet, soaking in everything He will share. Because I am so indebted to His grace, I long to anoint his feet with oil, wash them lovingly with my hands, and dry them with my hair. When you have been forgiven and healed of all I have, you cannot help but adore the One who saved You.
The one who has been forgiven much loves much.
My sin was damaging, and my choices were deforming, but my God is powerful, patient, forgiving, and trustworthy. He found me, saved me, healed me, strengthened me, and gave me new life. And what He did for me, He longs to do for you.
Or your spouse.
Or child.
Or sibling.
Or parent.
Or relative-in-general.
Or friend.
Or enemy.
If you, or someone in your life, desperately needs to be rescued by Christ, count this as truth:
God is more than trustworthy.
I encourage you to cry out to Him from where you are. Pray for repentance and deliverance, and intercede regularly for others. Then, choose to walk in faith.
Our God is still healing lepers.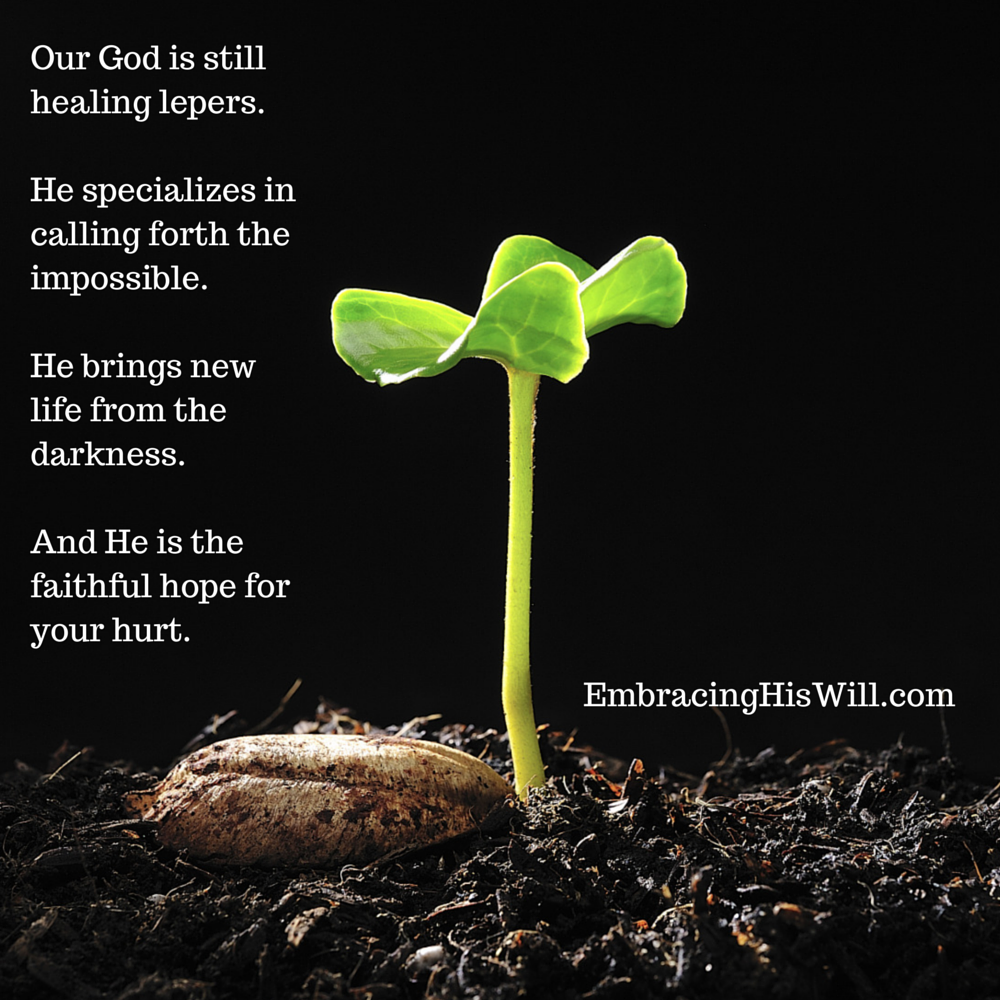 He specializes in calling forth the impossible.
He brings new life from the darkness.
He is the faithful hope for your hurt.
And He is the Redeemer and Restorer of the lost.
For further study: Luke 17:11-19 (ESV)