When I was little, I asked my friends to keep their word with the precious pinky promise. The pinky promise was an outward sign from another that they would do what they said. Sadly, as I grew older, I realized a pinky promise could be broken.
Promises are only as good as the person making them.
As adults, we realize that promises are tricky things. I have learned not to make promises to my children that can't be kept. To date, my only promises are to love them and always be truthful with them. That's it. That's all the promises I can make.
Plans change. Loved ones leave. People get sick. Jobs end. Confusion sets in. Worries arise. We make mistakes. Life happens.
But we serve a faithful God.
I serve a faithful God.
Click To Tweet
Unlike the promises made by imperfect people, God doesn't change, and He doesn't lie. When God makes us a promise, we can believe it.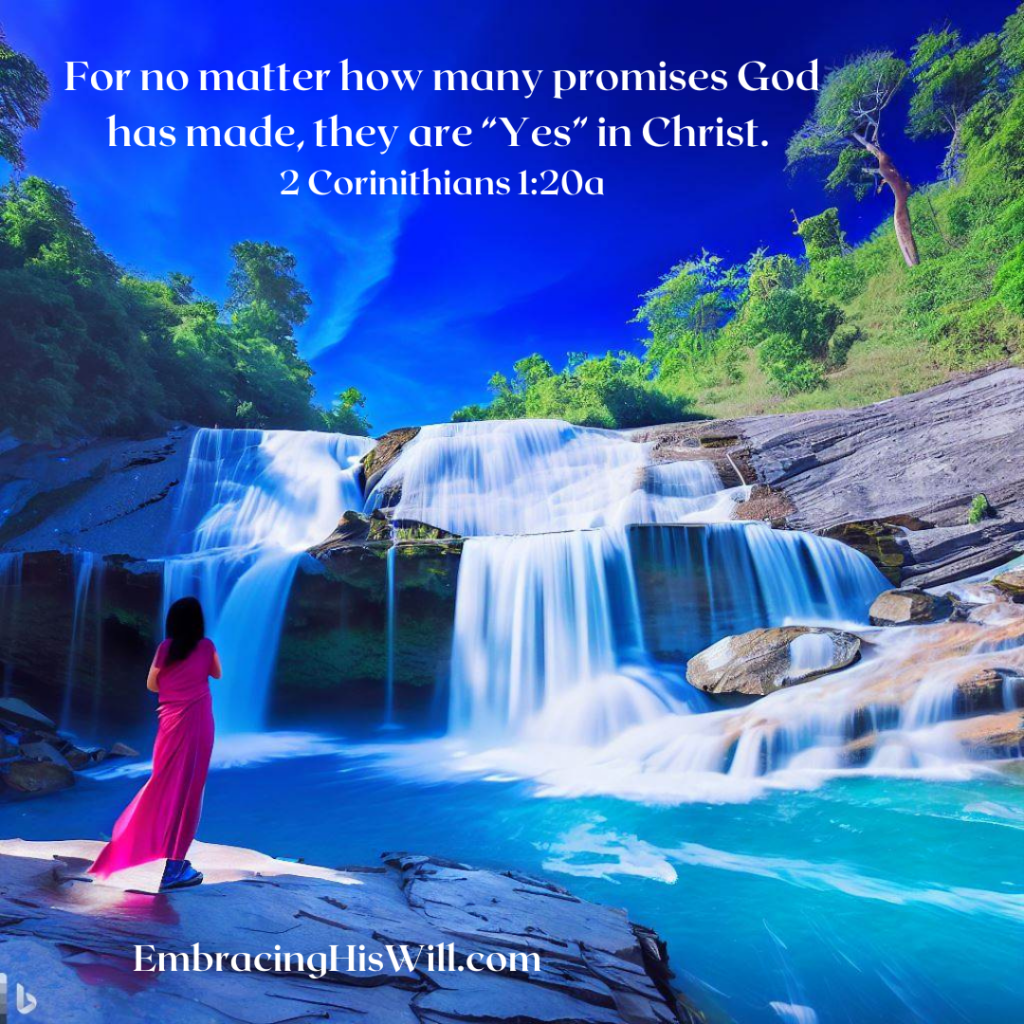 Yes, people leave, but God promises that we are never alone and that he will never abandon us.
Jobs may end, but God promises to provide for all our needs if we seek Him first.
We or those we love may get sick, but God promises that His power is made perfect in our weakness.
Confusion sets in, but God keeps the minds of those who trust Him in perfect peace.
Worries arise, but Christ has overcome the world.
We make mistakes, but God steadies us with His hand, keeping us from falling.
Life may throw its worst at us, but God gives us rest in Him and peace that surpasses understanding.
We can trust God because He is Truth. Unlike people prone to be led by feelings, God is the same yesterday, today, and forever. He knew us before we were knit in our mother's womb, and He's working all things for our good.
Whatever you are facing today, you can trust that God is in the midst of your situation.
So how do we stand on the promises of God, trusting Him to be true to His Word?
Keep our minds fixed on him.
When we keep our mind fixed on God, His Word, and His promises, we can rejoice because we know that we know that the Creator of all things has us and our situations in the palm of His hand.
Peace comes with knowing who our Savior is.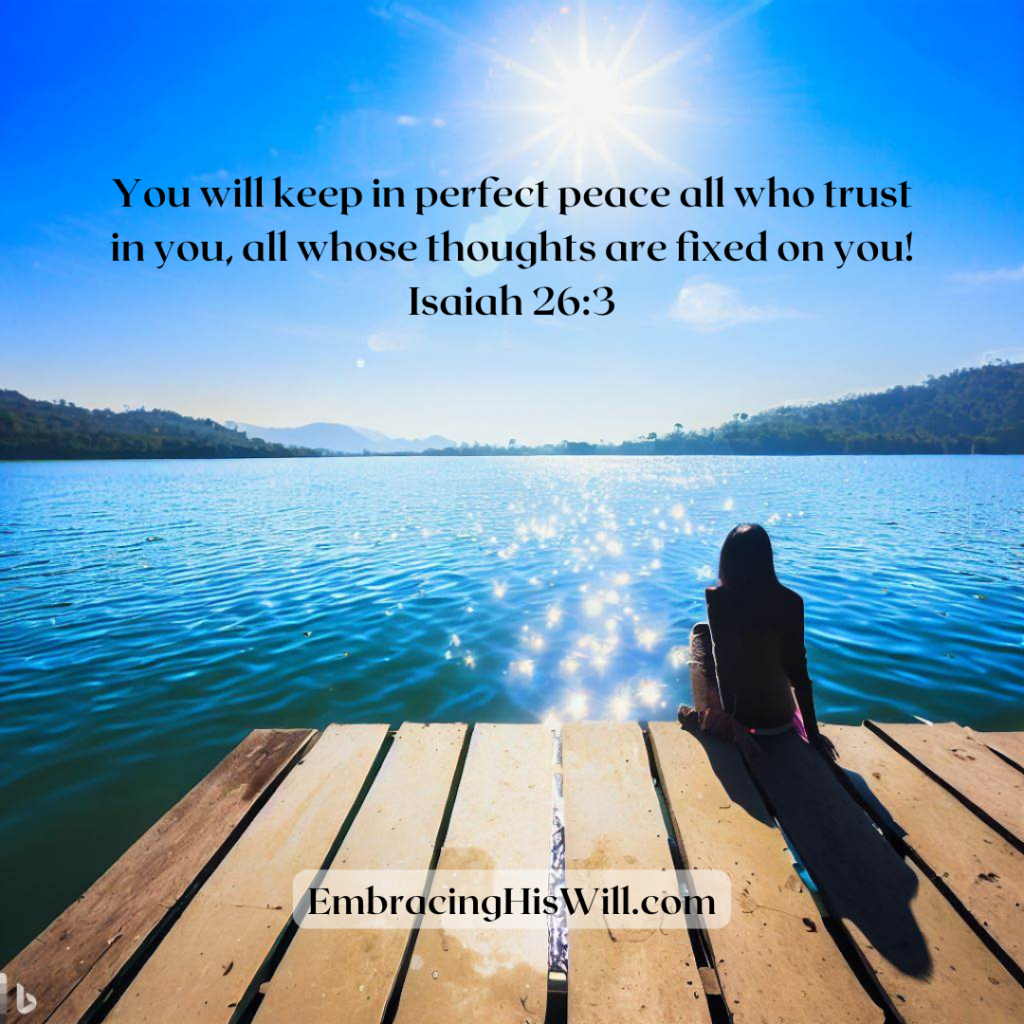 He promises to keep those whose minds stay on and trust Him in perfect peace. Moreover, when we fix our attention on God, we are transformed and able to discern his will. Then we can pray, trusting that our prayers are answered when we pray according to His will.
Pray
Prayer is not a suggestion from God but a command. God wants what's best for us, and when we pray, we honor Him and show Him we trust Him. In return, he answers our prayers and strengthens and encourages us. When we pray, we enlist the aid of the Holy Spirit, who not only intercedes for us with prayers of His own but also comforts us. Moreover, when we pray in faith, our prayers are answered.
Worship
When we worship our Lord, we praise him for all He has done. It is impossible to carry the world's weight while we worship Him in Spirit and truth. When we glorify God, our minds are set upon his love and faithfulness. We can rejoice in who He is as we shift our hearts and thoughts from ourselves and our circumstances to our Savior. There is peace in letting go and just being thankful.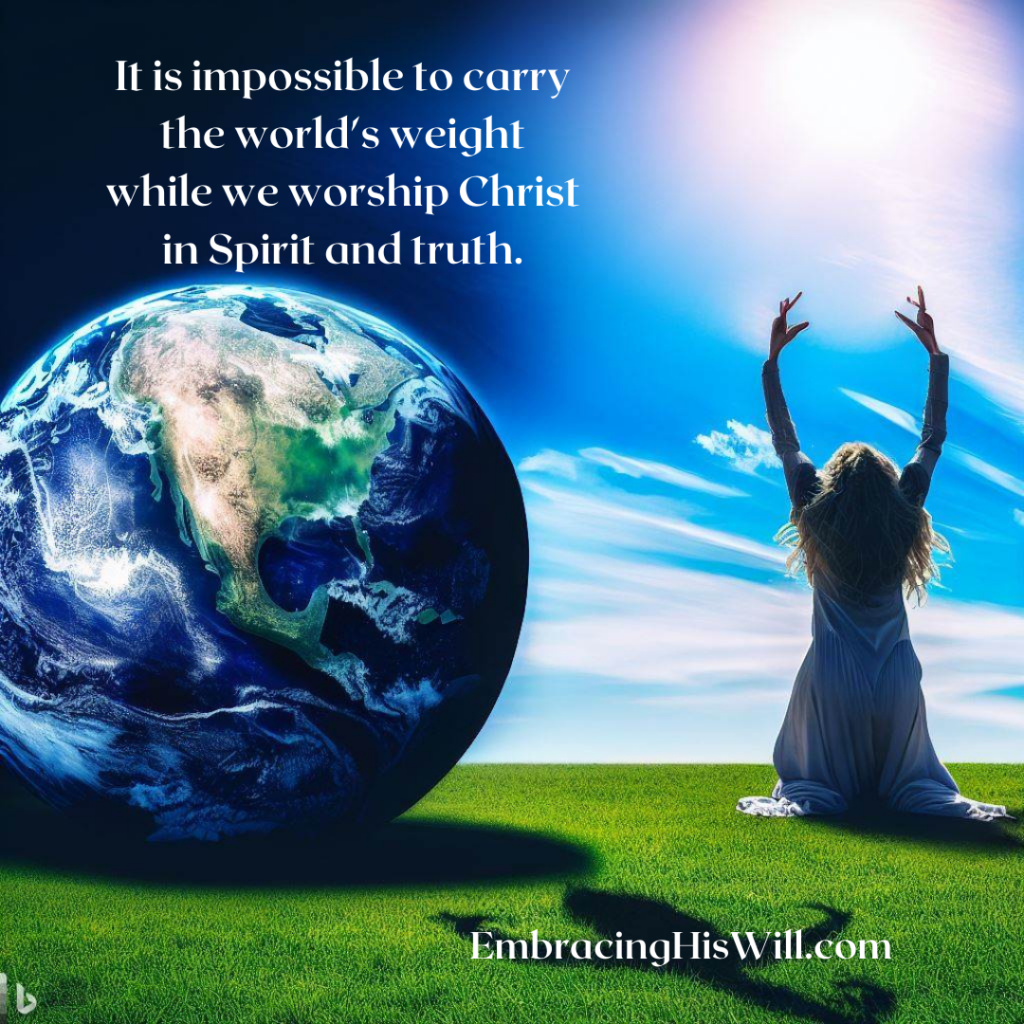 Yet, worship is more than praise to our God. It is meant to be a way of life. When we walk in faith and obedience to the Father, being led by the Spirit, we worship. This is the kind of life that God honors with answered prayers.
Study the Word
Reading our Bibles reminds us of all Christ has done for us and all that He has promised to do. Our minds are renewed, and our faith is strengthened. Further, Christ promises that our prayers will be answered if we abide in Him and His Word abides in us.
This is excellent news! God is a promise keeper who cares for us so much, He sends the Holy Spirit to enable us to stand on His promises. Then, as we stand on His promises, He is faithful to meet our needs, keep us from falling and answer our prayers.
Our God is still moving mountains.
Stand on faith and watch Him move yours.
For further study: Psalm 145:13, 2 Corinthians 1:18-22, Isaiah 41:10, Isaiah 26:3, 2 Peter 1:4, Romans 8:28, Psalms 37:4, Psalm 37:23-24, Joshua 23:14, Psalm 84:11, Hebrews 10:23, Joshua 1:9, Numbers 23:19, Hebrews 13:5-8, Matthew 6:31-33, Psalm 10:17
For prayer on today's topic, visit Daily Hope & Prayer.