Life was going. But where was it going? If it was going so well, why did I feel so uncomfortable? I was doing Kingdom work, attending church, and raising my babies, but I felt further away from God. I felt like a red flag was waving, and didn't want to ignore it. Have you ever felt like this?
As someone who has faced a fair share of grief and suffering through the years, I knew what it was like to rest in the presence of the Savior, experiencing the peace that surpasses understanding – and this wasn't it. The Lord had accomplished great things in my life. Yet, there was little peace. (Another red flag.) Just a quiet hum of disconnection. (There was another red flag.) I felt separated from God, and it unnerved me. It should have. An in-depth evaluation of my spiritual life revealed the problem. I had grown complacent – and I was slowly collecting red flags.
Merriam-Webster defines complacency as "self-satisfaction, especially when accompanied by unawareness of actual dangers or deficiencies."
In our Christian walk, complacency is when we become too focused on ourselves, drawing our focus off God. Complacency is a dangerous residence for a Christian. And it's easy to fall into. Modern life is busy, and if we are not intentionally protecting our zeal for Christ and guarding against complacency, be assured that something else will grab our attention. Further, sin is easy to fall into when we become complacent.
But how do we guard against complacency?
1. Practice moral excellence
As Christians, we are called to high moral standards. The world is looking at us. If we claim to follow Christ, then our lives should reflect Him. How can we do the work of Christ if our behavior denies our faith? Honesty, faithfulness, forgiveness, and trustworthiness should permeate our choices.
Moral excellence first begins in our thought life. The thoughts we choose to engage in should honor God. We are commanded to think about true, honorable, just, lovely, commendable, and excellent things. Are we protecting our thought lives? Or are we engaging in thoughts that dishonor our God and discourage our souls? If so, there is a red flag waving. The battle with sin is lost in our minds well before we fall into temptation. But, when we engage with godliness in our thoughts, our actions will reflect it.
2. Stay in His Word
I love it when God makes promises. I can count on Him because He's shown himself faithful time and time again. In James 4:8, we read, "Draw near to God, and He will draw near to you." I love that! God wants to be close to us. All we have to do is seek Him. How do we do that? We do it through prayer, worship, and studying the Word of God. Each of those three is important, but through studying the Word, we are equipped to do the work of God, the work we have been gifted and called to do.
Protecting our thought life and drawing near to God through His Word helps strengthen our walk with Christ. Even Jesus had to face temptation! But, He stood against it with the Scripture, and we can do the same thing. If we are spending less and less time in the Word, that is a red flag.
3. Practice self-control
Every day we are faced with choices. These choices either glorify God or dishonor Him. When we give into sin, we fail to practice restraint over our behavior, impulses, or thoughts. In our sin, we resist God and can even grieve or quench the Holy Spirit! We need the work of the Holy Spirit in our lives to keep us from returning to bondage. When we find ourselves falling back into sinful choices or thoughts, that is a red flag, warning us that we are in danger of being overcome by sin.
4. Remain steadfast
Protecting our thought lives, staying in God's Word, and practicing self-control help us to remain steadfast when we endure trials and temptation. James 1:2-4 reads, "Consider it pure joy, my brothers and sisters, whenever you face trials of many kindsbecause you know that the testing of your faith produces perseverance.Let perseverance finish its work so that you may be mature and complete, not lacking anything." We grow when we persevere through our trials. Our faith is strengthened, and we become more spiritually mature. Walking out our calling requires spiritual maturity. But, when our tests have overtaken us, and we feel like there's no way out – when we forget that Christ is our redeemer and rescuer, that's a red flag.
5. Walk like Christ
The decision to walk like Christ is just that – a decision. But, not a single decision. It's the many different choices we make moment to moment, day to day, to walk, talk, respond, and love in a way that glorifies God. Walking like Christ can only be accomplished if it's intentional and can not be achieved without the filling of the Holy Spirit. When we walk like Christ, our faith compels us to behave in a manner that reflects His love and faithfulness. But, when our walk begins to contrast Jesus' command to love as he loved us, that's a red flag.
6. Serve the saints
When we walk like Christ, we will love and serve the saints. Every member of the body of Christ is given gifts to fulfill the church's calling. This includes the work necessary for the edification of the saints. Further, we are commanded to love, show hospitality, and serve one another. If we focus more on serving ourselves than loving and helping others, that is a red flag.
7. Love as Christ loved
Jesus' love is active and powerful.
Click To Tweet
It is sacrificial. He showed His love through His life and His death. His love is gracious, showing mercy and willingness to put others first. His love is not self-serving. Jesus demonstrates forgiveness and loves the broken. While on earth, even though He was God in the flesh, he was not self-aggrandizing. He did not promote Himself but glorified His Father. Jesus interceded for others in prayer and met the needs of the sick and hungry. He advocated for the poor and encouraged the poor in spirit. If loving others like Jesus is no longer the priority it used to be, or not even a priority at all, that is a red flag.
The Bible tells us that when we practice these seven traits, we mature in Christ and prove productive and effectual in our walk and callings. But we are also warned that those who fail to grow in and practice them have forgotten where Jesus brought them from and are in danger of falling into temptation. Therefore, we should remain wary of spiritual red flags and stay honest in self-examination, lest we fall into complacency and away from Christ.
Red flags warn of danger. Let's not collect them.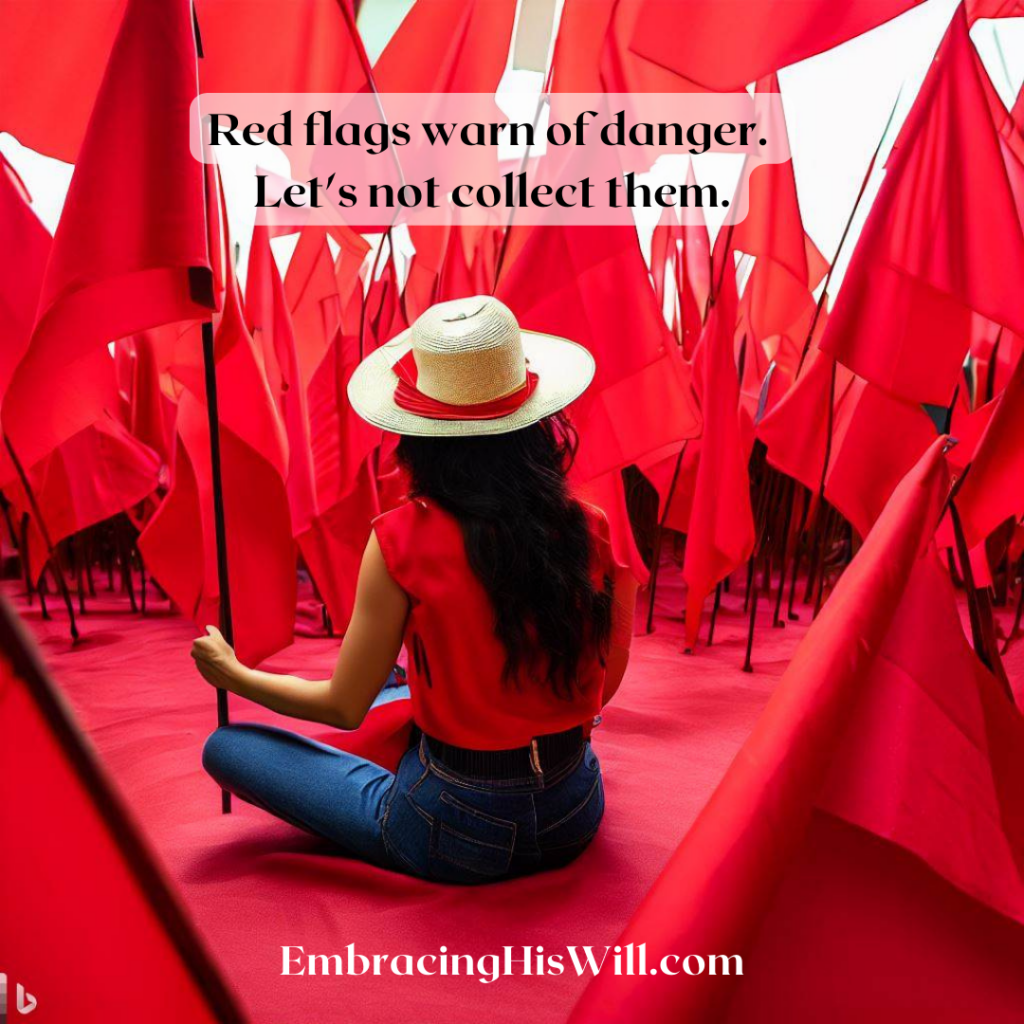 For further study: Hebrews 6:10-12, 2 Peter 1:5-11, 2 Corinthians 13:5, 1 Peter 4:7-10, 2 Timothy 3:16-17, Philippians 4:8-9, James 4:8, Romans 12:3-13